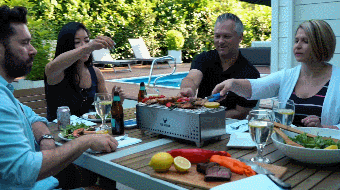 Meet the Yak Hibachi Grill: a stainless steel grill with pre-built skewer notches that lets you and your guests cook your meats and vegetables to your liking. It can heat up to 700F to get the job done. This grill has a cooking area of 7 x 15″. It doesn't produce a whole lot of smoke either.
The grill doesn't transfer heat to the table surface. You get to grill with natural charcoal for superior flavor. Yak Grills are dishwasher safe.
*Disclaimer: Our articles may contain aff links. As an Amazon Associate we earn from qualifying purchases. Please read our disclaimer on how we fund this site.