There are millions of Star Wars fans around the world. If you have one or two in your family, you are not going to struggle to find a gift for them. Here are 35+ Star Wars gadgets and gizmos for the kitchen that you shouldn't miss: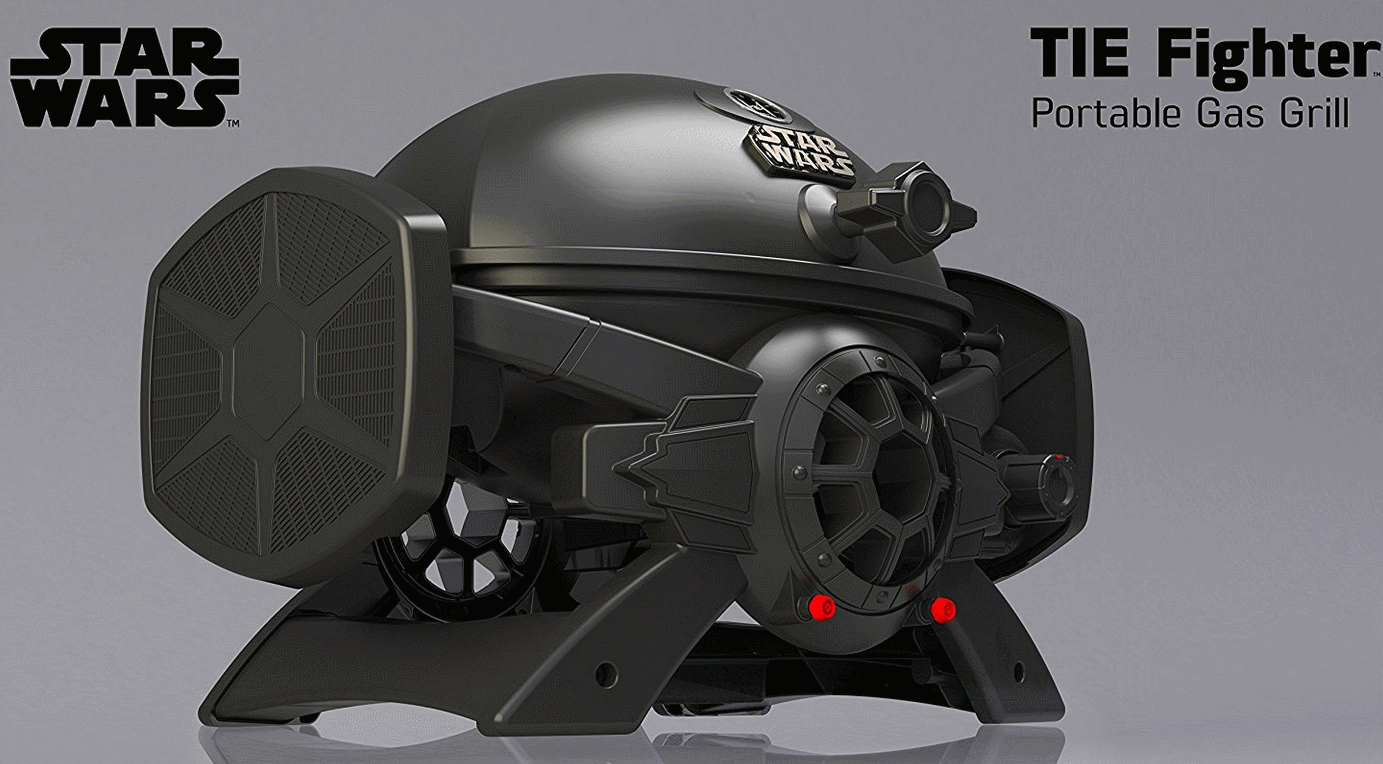 Star Wars TIE Fighter Gas Grill: an officially licensed Star Wars grill with 220 square inches of cooking space and fold out wings for food preparation.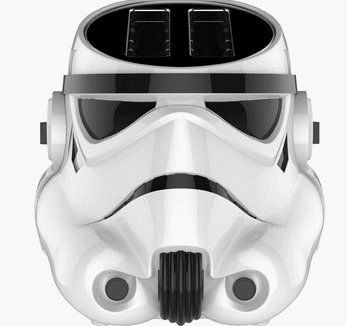 Stormtrooper Toaster: accommodates all types of bread. It has space for two slices and comes with reheat, defrost, and quick stop functions.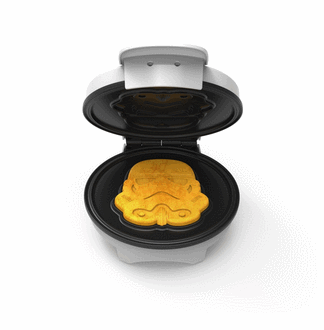 Stormtrooper Waffle Maker: a cute gift for Star Wars fans. It has 5 temperature settings and works for eggs, brownies, cakes, and sandwiches.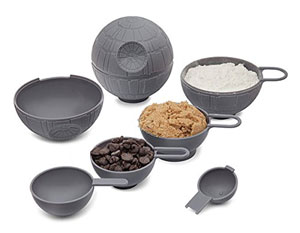 Death Star Stacking Measuring Cups: comes with 5 measuring units (1/2, 1/3, 1/4, 1 cup, and 1tbs). These are made of food-safe plastic.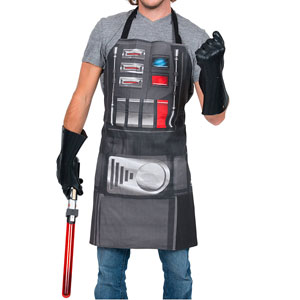 I Am Darth Vader Apron: a 100% cotton Star Wars apron for cooking indoors and grilling.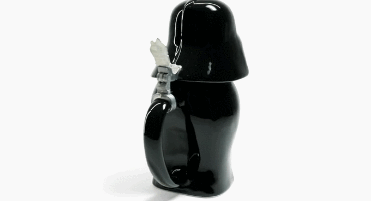 Star Wars Darth Vader Stein: holds 22 ounces of beer, wine, and other drinks. It has a ceramic base and metal hinge.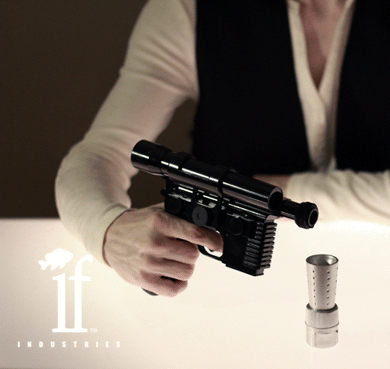 Han Solo DL-44 Blaster Flask: modeled after Han Solo's DL-44, this flask holds your drink and has a cap that serves as a 1.5oz shot glass.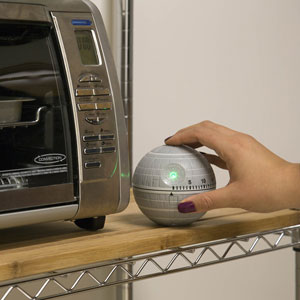 Death Star Kitchen Timer: this kitchen timer has lights and sounds and works up to 60 minutes. It has a green laser to let you know when the time is up.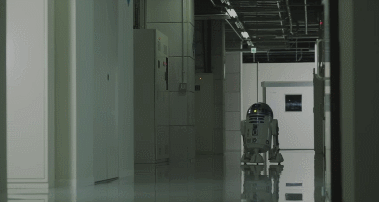 Moving R2-D2 Refrigerator: you can control this awesome refrigerator using a remote control to bring you chilled beverages.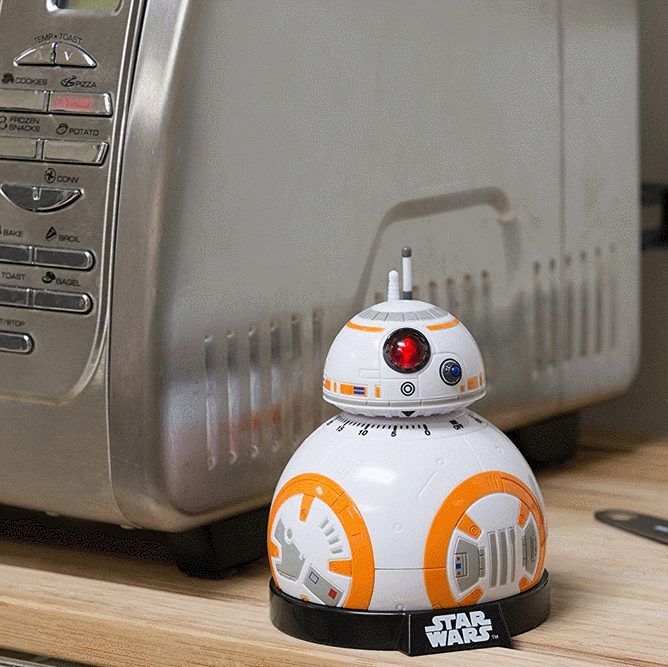 BB-8 Kitchen Timer: this cute kitchen timer has light and sound effects. It times tasks up to 60 minutes.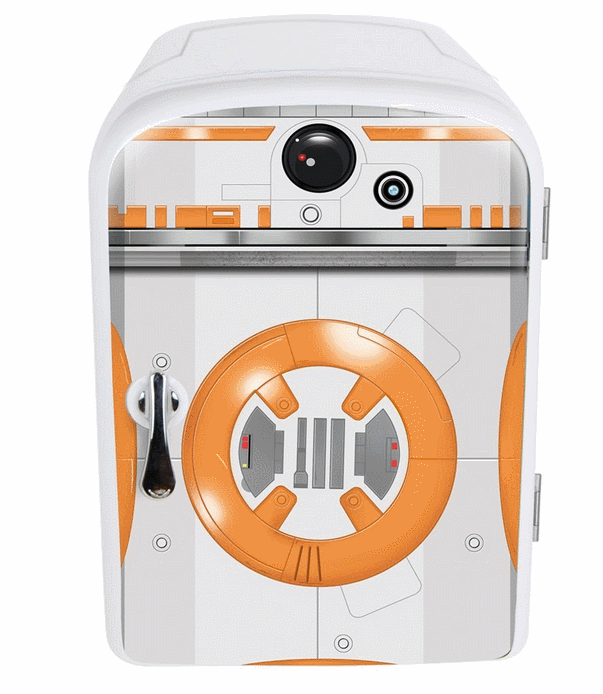 Star Wars BB8 Mini Fridge: has 4-liter capacity and holds 6 cans of soda. It has hot and cold functions.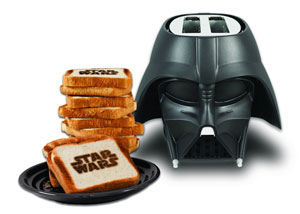 Darth Vader Toaster: toasts bread, waffles, and everything in between. It toasts the Star Wars logo on your bread.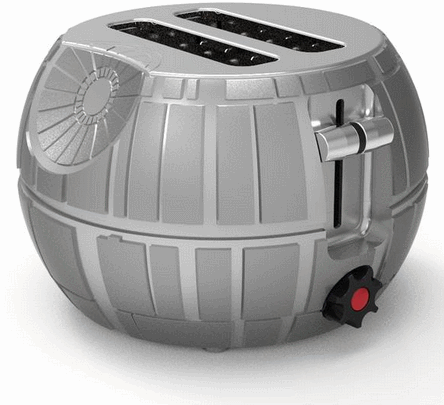 Star Wars Death Star Toaster: prepares two slices and toasts Star Wars logo into your bread.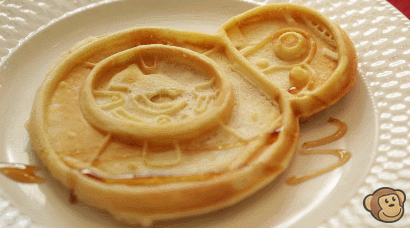 BB-8 Waffle Maker: yet another Star Wars themed waffle maker that makes BB-8 waffles that are 5″ across.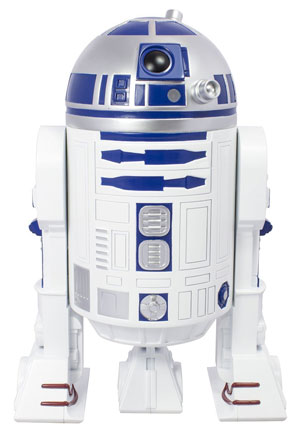 Star Wars R2D2 Talking Cookie Jar: a talking jar with Star Wars movie sounds which activate when you open the jar.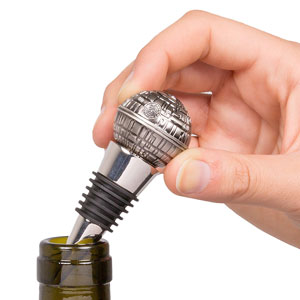 Star Wars Death Star Wine Bottle Stopper: creates a tight seal and keeps your wine fresh.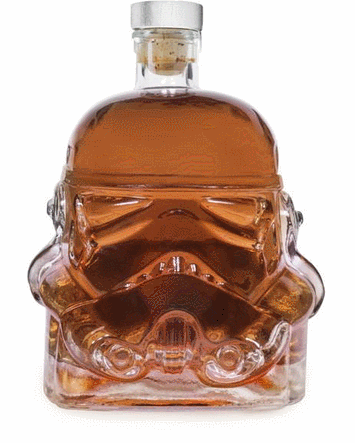 Stormtrooper Decanter: made of super flint glass, this decanter holds 750ml of liquid.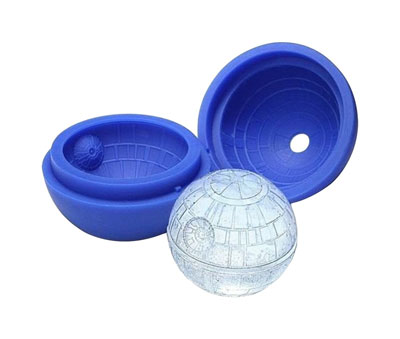 Star Wars Death Star Silicone Ice Molds: lets you make a large ball of ice that looks like the first Death Star in Star Wars: A New Hope.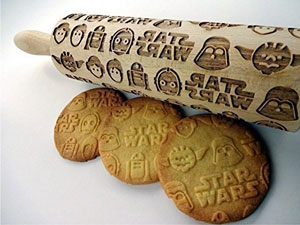 Star Wars Embossing Rolling Pin: lets you prepare prepare and bake delicious treats for Star Wars fans in your life.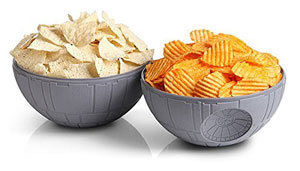 Star Wars Death Star Chip and Dip Bowls: an officially licensed item that holds 64 fl. oz. It is made of BPA-free plastic.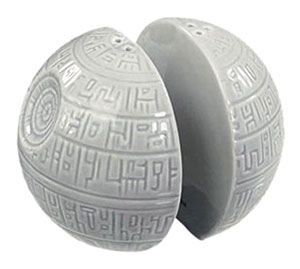 Death Star Salt & Pepper Shakers: this Death Star helps you add salt and pepper to your meals. It measures 3″ in diameter.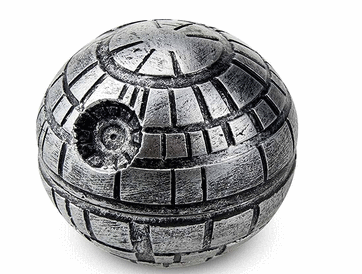 Death Star Grinder: grinds your herbs and keeps your spices fresh.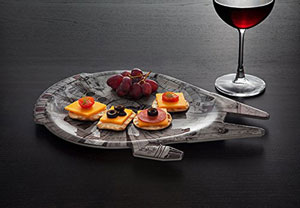 Star Wars Millennium Falcon Serving Platter: perfect for serving food in your parties. It is officially licensed.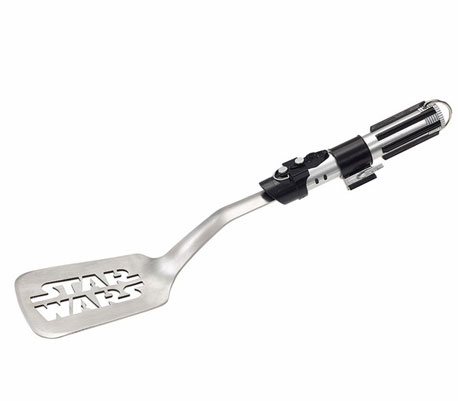 Lightsaber BBQ Spatula: this Star Wars kitchen gizmo is modeled after the hilt of Darth Vader's lightsaber.
Lightsaber Cutlery Set: a fork, knife, and spoon set for Star Wars lovers. These are officially licensed.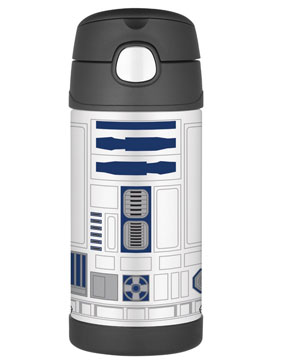 Thermos Funtainer Bottle: a Star Wars thermos with a stainless steel interior and exterior. It keeps your drink cold for 12 hours.
Star Wars Rogue One Stormtrooper Mug: a cool mug with a metal hinge and ceramic base. It stands 9 inches tall and holds beer, wine, and other beverages.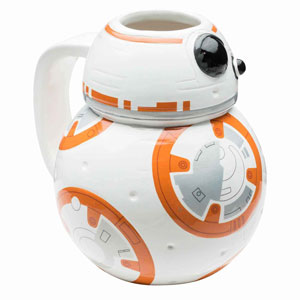 BB-8 Ceramic Mug: a coffee / tea mug for Star Wars fans. It is made of BPA-free ceramic.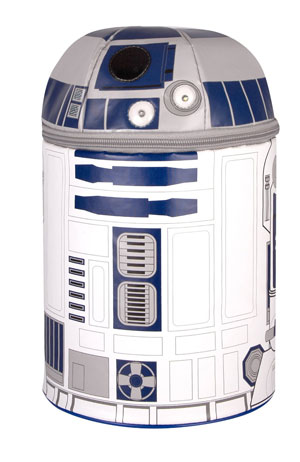 Thermos Novelty Lunch Kit: a cute thermos lunch kit for your child with closed cell polyethylene foam insulation.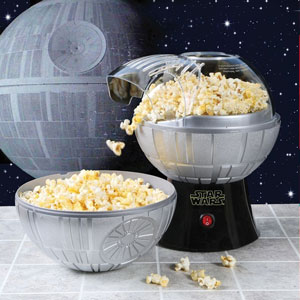 Star Wars Rogue One Death Star Popcorn Maker: a popcorn maker for Star Wars fans that heats with hot air to create fluffy popcorn.
R2-D2 Popcorn Maker: makes air-popped corn for your family. It has a compact design and gets the job done.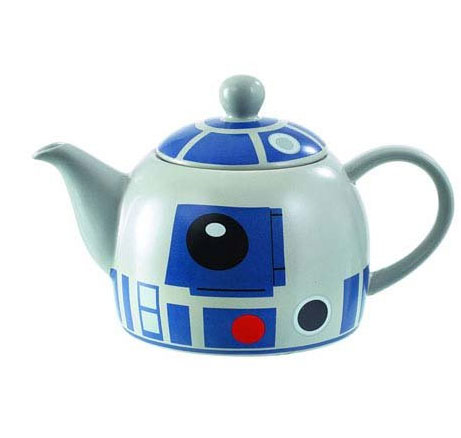 R2D2 Teapot: this ceramic teapot is an affordable gift idea for Star Wars fans.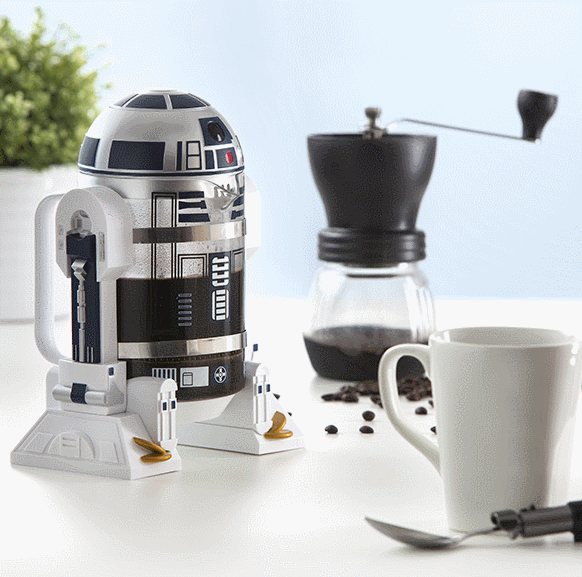 Star Wars R2-D2 Coffee Press: holds 32 ounces of coffee. Just put grounds and boiling water in the glass body to get started.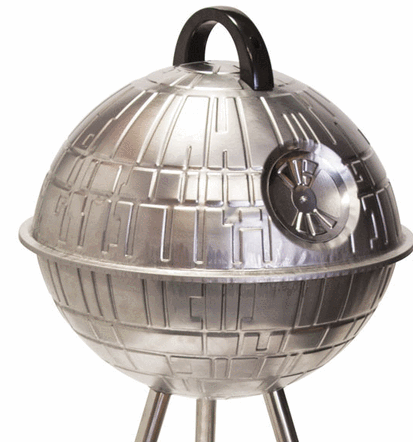 Star Wars Death Star BBQ: perfect for your parties, this stainless steel grill had adjustable air vents and a heatproof handle.
Star Wars BB-8 Pizza Cutter: an officially licensed device that lets you cut your pies effortlessly.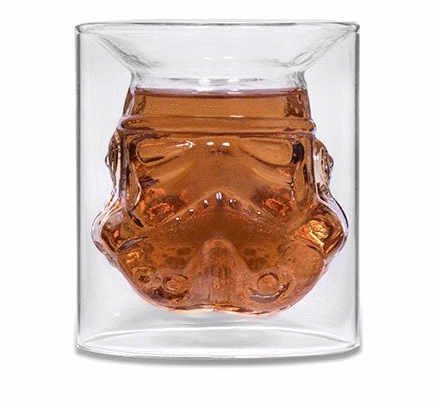 Stormtrooper Glass: has 150ml capacity to hold your favorite drink. The design is inspired by Stormtrooper helmet.
Have you found cooler Star Wars kitchen gizmos? Please share them here.
*Disclaimer: Our articles may contain aff links. As an Amazon Associate we earn from qualifying purchases. Please read our disclaimer on how we fund this site.