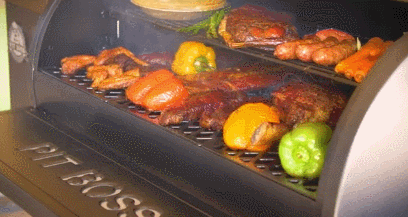 Here is another pellet smoker that lets you infuse smoky flavor into your food. The Pit Boss Grills 77550 5.5 Pellet Smoker has 5 porcelain coated cooking grids with 1830 sq.in of space. It has 40lb hopper capacity. Its temperature is programmable from 150 to 450F.
The unit has an auto-start 300-watt igniter with auto shut-off function. You can read the internal temperature on the digital LED display.
*Disclaimer: Our articles may contain aff links. As an Amazon Associate we earn from qualifying purchases. Please read our disclaimer on how we fund this site.