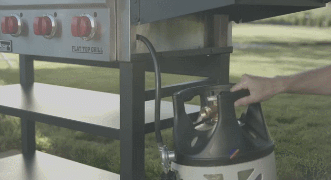 Investing in a decent grill is a must if want to truly enjoy cooking food in your backyard. The Camp Chef Flat Top Grill has you covered. It has 12K BTU/hr stainless steel burners and a matchless ignition system. It has 604 sq.in of cooking surface, which is plenty for all your meats and vegetables.
The grill's grease management system helps you manage all the mess. The Camp Chef Flat Top Grill also comes with roller wheels and a convenient propane tank holder.
*Disclaimer: Our articles may contain aff links. As an Amazon Associate we earn from qualifying purchases. Please read our disclaimer on how we fund this site.